We are at the end of 2021, and this year has been quite unexpected in many ways. The skincare industry too has witnessed several unprecedented developments this year that have added immense value to the users. Here are some of the top trends that stood out for us through the year, and we would reflect upon the best skin care products that have made a difference in people's lives.

To offer a heads-up into the discussion, we believe that people have been shifting their focus to the more "toxin-free" options. Such products may have ingredients derived from nature itself. They are thus trying products that are good for regular usage, and do not pose any skin hazards.
One such brand that is offering toxin-free products is Mamaearth. Founded five years ago, it has been offering some of the best skincare products now for men and women of different skin types.
The Secret Behind the Success of Mamaearth:
When a brand succeeds, especially in the 21st century, there has to be a winning factor that can wow the audience. In the case of Mamaearth, the reveling factors go like this.
Natural Abundance: Its products are curated using the best of natural ingredients. This adds to the effectiveness of the skin care products and makes them worthwhile.
Zero Toxicity: None of its products contains toxic substances like parabens, SLES, silicones, and more. Even adulterations such as the addition of color and artificial fragrances are absent.
Safety Assurance: All its products are tested for quality by clinical experts and then released into the market. This practice has made Mamaearth the first-ever Asian brand to be awarded the MadeSafe Certification.
Variety of Products: In terms of variety, this brand offers various skin care products as per different skin types. This makes it both convenient and exciting to try its products, especially if you are buying online.
Top Trending Products You Must Try Today!
With the help of online reviews, advice from medical experts, and recommendations of beauty influencers, we have curated the list where you will find the most happening skin care products of 2021 from Mamaearth.
Let us check them out one by one.
Product 1: Shampoo and Body Wash for Men
Finding a good body wash for men is quite difficult. However, Mamaearth has made this a point to ensure that men are not left out. Thus, they have created a formula that is suitable for men and offers prominent benefits.
Key Ingredients:
Caffeine: This ingredient pulls out toxins on your skin, thus leaving the skin cleaner and fresher.
Tea Tree Oil: You might not find tea tree oil in most of the body wash for men. But Mamaearth has included it to offer a gentle and nourishing experience to you. This oil is known for its anti-microbial properties that make your skin healthier.
Menthol: What is life without a bit of freshness? Hence the cool Menthol that acts as a recharger. Its job is to ensure you feel fresh and energetic after your shower.
Key Benefits:
It helps in cleansing the scalp and body.
It initiates a cooling and reenergizing effect during the shower.
It helps to keep germs at bay.
Usage: For your body, you need to use it every day while taking a shower. For your hair, use it twice or thrice a week, and then wash your hair with lukewarm water.
Product 2: Charcoal Face Scrub
This is another skin care product that has gained immense popularity owing to the presence of activated charcoal. When regular charcoal is exposed to high heat, a porous black residue is left behind, this substance is called activated charcoal. If used in a face scrub, it traps particles in its pores. No wonder it is used only in premium skin care products.
Key Ingredients:
Activated Charcoal: This ingredient traps oil particles and dirt particles that are present inside pores and on the surface of the skin. It cleanses the pores deeply and gives the skin a non-greasy texture by absorbing excess oil.
Walnut: Rich in Vitamin E, walnut acts as an exfoliant. It removes tan and dirt, thus making your skin nourished, radiant, and healthier.
Tea Tree: Tea tree has anti-microbial and anti-inflammatory properties. It keeps the skin gentle, clean, and acne-free.
Key Benefits:
Removes the dead skin cells.
Helps in removing tan and impurities.
Acts as an exfoliant.
Gently nourishes the skin, makes it more supple
Usage: Use this charcoal face scrub twice or thrice a week, depending on the condition of the skin. Be gentle while massaging the product on your skin and moisturize your skin with a suitable moisturizer immediately after washing off the product and pat drying your face with a towel.
Product 3: Tea Tree Foaming Face Wash
Another skin care product that has gained popularity not just because of the quality but also because of the packaging is the Tea Tree Foaming Face Wash from Mamaearth. Let us understand how it can benefit your skin.
Key Ingredients:
Tea Tree: It is blessed with anti-inflammatory and anti-bacterial properties. It does not just help in clearing out excess oil but also kills bacteria that feed on grease and harness acne breakouts. This ingredient further helps in disinfecting your pores, cures scars, and subdues swellings, if any.
Neem: This ingredient has antibacterial, anti-inflammatory, and antioxidant properties. It fights off skin damage caused by the reaction of free radicals. It also helps in keeping the skin healthy and nourished.
Salicylic Acid: It absorbs excess oil and makes the skin oil-free without breaking the natural moisture barrier. It checks the breakout of blackheads and cures blemishes. This is how the skin looks better in terms of texture and appearance.
Key Benefits:
It removes excess oil from the face.
It kills those bacteria that feed on oil and form acne on the skin.
It reduces acne and blackheads.
It cures blemishes, scars, and imperfections to make the skin look fuller, softer, and visibly clearer.
Usage: Use the applicator to massage the face wash on your skin and then wash it off with lukewarm water. We recommend using the product twice a day at least – once in the morning after waking up and once before you go to bed at night.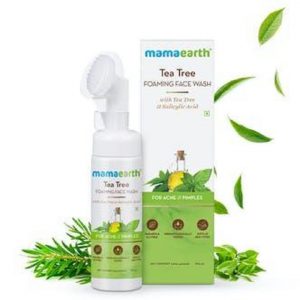 These are the three main skincare products that have top-trended in 2021. If you have already included them in your skincare routine, you should be reaping your benefits with a better grade of skincare experience. The key is to look for the products that suit your skin type perfectly and then use them regularly for the best results.