I can predict with near certainty that at one point, you may have wanted to schedule a haircut but failed because of time. Other times you probably get back home feeling really tired and can't go out to look for barbers. I also have to confess that I am a haircut addict but there are several instances when I get frustrated by the limited working hours.
If this is what you have been dealing with too, there's something you can do about it. Today, barbers and stylists are opting for mobile services because they think it's convenient and also saves time for their clients. In this brief, we are going to state and explain all the benefits of mobile barbers and hairstylists.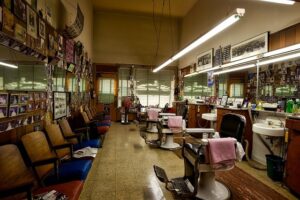 What is a mobile Hairstylist?
Until recently, there were no great solutions to common problems that haircut customers faced. Nonetheless, you could easily find a salon that is ready to welcome some more customers. The main issue came with the unavailability of any empty chairs and this did not scream quality. It was also very easy to force appointments into your already full schedule but then this would mean accepting poor quality services because of all the people in the queue.
Fortunately, there is a better solution to all these problems. Today you can just contact a hair stylist and schedule a haircut at the convenience of your home.
Before we continue, we have to ensure that we are all on the same page. These mobile hairstylists are very helpful because they work on the go. With their services, you don't have to waste your time organizing and planning a salon visit. You just have to make a call and wait at your home or office for a mobile hair stylist to come and fix your hair.
You also have to note that mobile hairstylists are first and foremost hairdressers. They have the same training, licensing and certification as the hairstylists that you find at the salon. Mobile hairstylists are equipped to offer the same services and they also ensure to leave your home just as spotless as they would do at their work stations.
You may be wondering whether there's any difference between a mobile hairstylist and the one you get in the salon. Yes, there's a slight difference, mobile hairstylists will come to you.
Who is mobile hairstylist services best suited for?
Mobile hairstylists are a best fit for people in any of the below categories. If you belong in any of the groups, then you need to make a decision and opt for a mobile hairstylist rather than a traditional salon.
Business people-We both know that business people want to earn more money from their hustles and hence will utilize every second of their time. They are also very busy and at the end of the day they are extremely tired. The best option in this case is to go for a mobile hairstylist.
People with odd schedules-If you are one of those people who don't work the 9-5 schedule, then you can benefit greatly from mobile hairstylists. It applies to all the people who work in an office that requires workers to stay odd hours for conferences or other work-related activities.
Seniors-Seniors don't have enough time and energy to be travelling to and from salons on weekly basis. Majority of them are also dealing with some health conditions that don't require them to go out more often. In this case, they need services of mobile hairstylists.
Hospital patients-Staying on the hospital bed for some time can as well feel challenging especially when you want your hair done. The best thing to do is to opt for a mobile hairstylist.
Benefits of mobile hairstylists
With all the information above, you are sure that there's a way a mobile hairdresser can help you. If you have been visiting barbershops and hair salons then you definitely know the hustle people go through. Mobile hairstylists and barbers can be of benefit to you in a number of ways;
Mobile hairstylists save you time
This is the first and the foremost reason why most people today are opting for mobile hairdressers. It doesn't matter whether you are a busy lawyer, doctor, a stay at home mom or a travelling sales man. Their services will help save you a lot of time. You may have limited free time between one workday and the other. These specialists will save you time otherwise spent:
Finding a nice salon
Driving to the salon
Finding a packing
Waiting for your turn in the salon
Waiting for the assistant to wash your hair
This is one advantage but traveling hairdressers can as well save you a lot of time because they offer flexible working hours. This means it's up to you to choose what works best for you.
Privacy and comfort
Travelling hairdressers offers more comfortable and private services. When you want to get the best haircut, you need to be in a very comfortable place. Even the most beautiful and resourced hair salons and barbershops can feel very public.
A mobile hair service can as well feel more pleasant and comforting because you will be serviced at your favorite position and room. It also makes you feel more relaxed and you get your routine haircut done without listening to gossip and other client's chit chat.
These people make big events easier
It can be challenging to cater for all your salon needs in preparation for a big day. It gets even harder when you are not the only one who needs the services of a hairstylist. There may be other people such as your family and friends that need to get their hair cut or fixed. The best thing to do in this case is to go for a mobile hairstylist.
You can work during hair services
If you are a freelancer or a customer care, then it's very easy to continue with your work as you get your favorite haircut. You don't have to leave your work place entirely to go get your hair done.